Everyone always wants to get the most out of their Disney World trip and day at Magic Kingdom. It's such a vast park and with poor planning you can find yourself walking backwards and forwards across the park. I have created a Magic Kingdom Itinerary to help to achieve 10 attractions before lunch time. Maybe you only have 1 day Magic Kingdom tickets, then you'll definitely want to maximise your time in the park.
This is something we achieved on our first day in Magic Kingdom in August 2017. Battling the heat and the crowds, I realised that it's very achievable to experience plenty of Magic Kingdom in one day with some planning beforehand.
The best Magic Kingdom Itinerary takes into account booking and using our three Fastpasses available to us, and also arriving at Magic Kingdom for the opening of the park without utilising extra magic hours.
It would be impossible to cover all areas of the park so this Magic Kingdom itinerary covers Fantasyland, Adventureland and Liberty Square.
If you have limited time, then one must do at Magic Kingdom is to watch Mickey Mouse open the park. Stand to the left of Cinderella castle at the top of Main Street and be ready when the rope drops to walk around and through the castle into Fantasyland.
Attraction 1 – Peter Pan's Flight
We begin the day using the standby line for Peter Pan's flight. This is one of the Magic Kingdom attractions to ride early in the day. When we walked through and joined the line, the queue time was showing twenty minutes.
In actual fact this was more like ten minutes and it's a great way to see the interactive queue that this ride has to offer without waiting for upwards of forty minutes.
Attraction 2 – It's A Small World
Any itinerary for Magic Kingdom has to include It's A Small World. After we have flown over London with Peter, it's time to walk across the path. Try not to get the song stuck in your head for the rest of the day as you join the short queue. The queue for It's a Small World is often shorter than others even in busy periods so it's a good chance to pop in whilst you're near.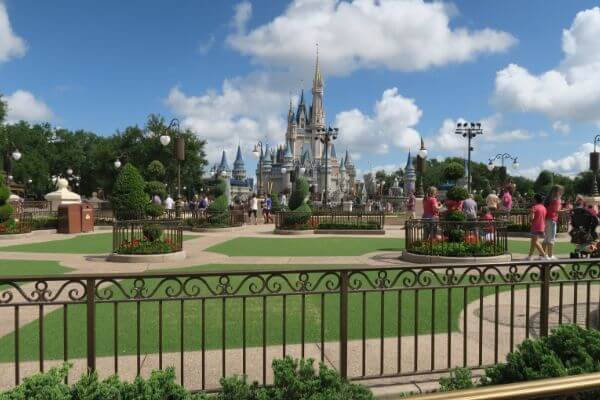 Attraction 3 – Magic Carpets With Aladdin
We walk through to Adventureland to ride Magic Carpets With Aladdin. This ride doesn't command high queues however the queue isn't very shaded so riding earlier in the day is always a good idea. We found waiting in line in the afternoon sun isn't very pleasant.
Attraction 4 – Pirates Of The Caribbean
Time for our first Fastpass of the day to ride one of the popular Magic Kingdom rides, Pirates of the Caribbean. I don't mind the standby queue for this ride but you can wait for thirty minutes on a busy day, and it's a cool but dark standby line to be in.
Attraction 5 – Haunted Mansion
The next Fastpass of the day (and time them well) is the Haunted Mansion. We love a bit of the Haunted Mansion, and it's a good use of a Fastpass for our Magic Kingdom itinerary today.
Attraction 6 – Mickey's Philarmagic
We walk back towards Fantasyland now and it's time for a quick sit down in the Philarmagic Theatre. If you've never watched the 4D show then you're missing out. It's a great attraction to watch, funny and also perfect to avoid any rain showers or take a quick break from the heat.
Attraction 7 – Dumbo
Onwards to the Dumbo ride. This isn't just for kids and it's a great way to keep the kids entertained in the standby queue as there is a huge play area inside the tent. There are two Dumbo rides running which makes the queues short.
Attraction 8 – Goofy's Barnstormer
Staying in Fantasyland, we make our way over to the Barnstormer ride. A fun introduction to a roller coaster for smaller people, but also a fun, if a little jerky ride for everyone else.
Attraction 9 – Carousel
We cannot pass the carousel without popping on to see if we are lucky enough to ride Cinderella's horse (the one with the golden bow in his tail). We have managed this once when we were at the front of the queue. It was only thanks to meeting Mary Poppins in Epcot that we learnt about this little nugget of information.
Attraction 10 – Seven Dwarfs Mine Train
Last but by no means least, it's time for our last Fastpass of the morning and time to ride Seven Dwarfs Mine Train. This is one of my favourite roller coasters in Disney and a must ride to Fastpass to avoid the long queues.
We don't even bother walking towards this attraction when the park opens as we can get so much more done by visiting later in the day with our Fastpass.
Phew, that was a busy morning, but one of the best Magic Kingdom Itinerary schedules that works for us. By now it's around 1pm and I don't know about you, but we were starving so popped over tone of our favourite character restaurants, Crystal Palace for lunch before enjoying an afternoon by the pool. This morning in Magic Kingdom will fit in really well to my Ultimate 10 day Walt Disney World Itinerary as well.
Other great rides to experience are Big Thunder Mountain railroad, Space Mountain, Buzz Lightyear's Space Ranger Spin, Splash Mountain, all worth of a Fastpass if any of the above rides don't appeal. Don't forget to pick up your Magic Kingdom map on the way in if you're not familiar with the park layout.
For all the Walt Disney World hints and tips click here