What can adults do at Disney World? There is so much to do at Disney World for adults if you're thinking of going without children. People are quick to assume that it's all about the children because of the word Disney, but I would happily do on an adults only Disney trip if I could.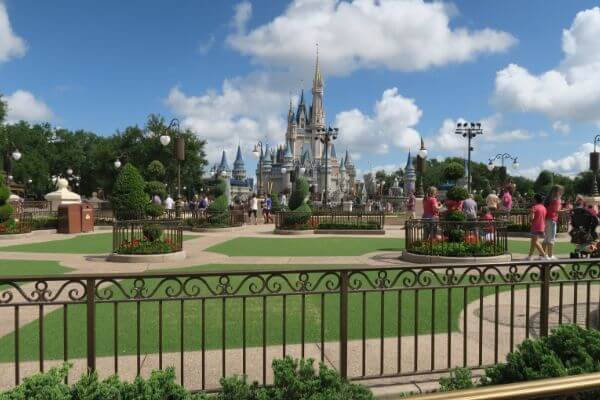 Magic Kingdom For Adults
Magic Kingdom is my favourite park. It's the park we visit on the first day of our trips, and the park I have researched the most over the years.
Magic Kingdom probably isn't the park with the biggest thrill rides, however there are still plenty such as Space Mountain, Big Thunder Mountain, Splash Mountain and Seven Dwarfs Mine Train that are the favourites for adults visiting Disney World.
Test your Disney World knowledge with these quiz questions
Keys to the Kingdom Tour
Keys to the Kingdom tour is something I would love to experience one day. The chance to go behind the scenes and see the utilidors is definitely on my Magic Kingdom bucket list for one day.
The Keys to the Kingdom tour lasts for 5 hours and provides you with the chance to learn more about Walt Disney, his vision and how the park was created. You will also be provided with lunch and the chance to ride some rides VIP style.
This is an adults only experience in Magic Kingdom available to guests aged 16 years and over.
Fireworks Cruise
Outside the Magic Kingdom park, you can book a speciality cruise to watch Happily Ever After fireworks. The boats dock at the Magic Kingdom Resort hotels, and you can spend an hour on Bay Lake and Seven Seas Lagoon before the fireworks start.
We were treated to such amazing information from our skipper about Disney World, provided with drinks and snacks on our pontoon, and moored in a great spot in front of Magic Kingdom to watch the fireworks. The music was piped into the boat, and it was a great way to sit back and avoid the crowds.
Epcot For Adults
Epcot is often given the stigma of being educational or boring, but I completely disagree with this stigma. Personally I think Epcot is the best Disney park for adults.
Drinking Around The World Showcase
Being adults at Disney World means you can indulge in some alcohol if you so desire. On our last trip to Disney World, we spent a great child free day drinking and eating around Epcot's World Showcase.
We did visit during Flower and Garden Festival, so there were additional booths serving food and drink, but even without a festival happening, each Pavilion has some amazing food and drink items available to sample.
Epcot Wine Walk
If you don't fancy eating and drinking around the World Showcase, then why not give the Epcot wine walk a try. You can enjoy wines from Germany, Italy and France when you purchase your refillable wine glasses. This can be purchased from one of the three pavilions above.
Behind The Seeds Tour
If you enjoy the Living with the Land ride, why not learn more about what goes on behind the scenes at Epcot with the Behind the Seeds tour.
This is a short one hour tour where you can visit the fish farm and four greenhouses see what happens to provide all the produce that Epcot produces.
Best Restaurants In Disney World For Adults
California Grill
California Grill in Disney's Contemporary Resort is probably one of the most sought after places to eat at Disney World if you are looking for something special.
A signature restaurant with a dress code which includes collared shirts for the men and skirts, pants or dresses for the ladies, you can be sure of a special experience.
Tiffins
Tiffins restaurant in Animal Kingdom offers a world of flavours if you're looking for something a little different to experience. You can enjoy waterfront views as you enjoy your food and drink.
The Boathouse
Imagine taking a friendship boat along the peaceful Sassagoula river to Disney Springs and a meal at The Boathouse.
Related Post – Best restaurants at Disney Springs
You can enjoy the water side restaurant serving menu items such as fish and steak. You might even spot the nearby Amphicars being taken out for a ride.
The Edison
Also at Disney Springs is The Edison, a 1920's themed restaurant serving ribs, salmon and burgers to name but a few menu choices.
You can also experience the entertainment on offer whilst you dine which will keep you entertained and on your toes.
Le Cellier Steakhouse
Known for being one of the best places to eat steak in Disney World, Le Cellier can be found in the Canada Pavilion in Epcot.
Reservations are sought after for Le Cellier, so book early to avoid disappointment.
Via Napoli
Nestled at the back of the Italy Pavilion in Epcot is a traditional Italian restaurant, Via Napoli.
Read our full review of Via Napoli restaurant
You can watch your pizzas being cooked in the stone pizza ovens, or try some of the varied dishes on offer.
Other Experiences At Disney World For Adults
Backstage Magic
If you want to enhance your experience of the Disney Parks back stage then the Backstage Magic tour is for you. This is a 7 hour tour which takes you across the Disney Parks back stage.
You can see what happens behind the scenes, including back stage at Rivers of Light, back stage at Epcot's American Adventure show. Enjoy a lunch at Tiffins just for Backstage Magic guests.
This sounds like an amazing experience that would be a once in a lifetime to see.
Grand Floridian Spa
One of the truly special things to do at Disney World for adults is to visit the Grand Floridian Spa. If you'd like to get away from the parks and be pampered, then the Grand Floridian Spa is a great way to do this.
You can enjoy facials and massages in Senses, and be immersed in luxury for a few hours. It's not going to be cheap, but what a lovely way to treat yourself.
Related Post – How to spend rest days at Disney World
The Boardwalk
Why not visit the Boardwalk, just a short walk from Epcot, or a boat ride away. You can enjoy a drink in Abracadaba, entertainment in Jellyrolls (over 21's only). Perhaps you'd like to take a stroll along the boardwalk and then enjoy a pizza from the famous pizza window.
Related Post – Things To Do At Disney World Outside The Parks
Run Disney
Throughout the year Disney host multiple different themed runs over a variety of distances. This is a great way to get involved if you enjoy running, and try something completely different at Disney World.
Disney World Dinner Shows
Whilst all the dinner and shows are family friendly at Disney World, they are equally a great idea for an adults night out. We have particularly enjoyed Hoop De Doo in the past, and would love to experience the Spirit of Aloha show at the Polynesian resort.
FAQ
What are the best rides at Disney World for adults?
The most popular rides for adults include Hollywood Tower of Terror, Rock 'n' Roller Coaster, Test Track, Flight of Avatar and Space Mountain.
What is the best resort at Disney World for adults?
If you're looking for some luxury then the Grand Floridian has to be the best choice. On a budget, I would opt for Fort Wilderness Resort and Campgrounds due to the vast open space available.
Typhoon Lagoon or Blizzard Beach for adults?
Typhoon Lagoon because of the wave pool
What Disney park is best for adults?
Epcot has culture, great food and drink, rides and plenty of access to all transport options.