There is so much to do at Disney World for adults if you're thinking of going without children. People are quick to assume that it's all about the children because of the word Disney, but I would happily do on an adults only Disney trip if I could.
*This post contains affiliate links. If you make a purchase via our links, we receive a small commission at no extra cost to you*
Magic Kingdom For Adults
Magic Kingdom is my favourite park. It's the park we visit on the first day of our trips, and the park I have researched the most over the years.
Magic Kingdom probably isn't the park with the biggest thrill rides, however there are still plenty such as Space Mountain, Big Thunder Mountain, Splash Mountain and Seven Dwarfs Mine Train that are the favourites for adults visiting Disney World.
Keys to the Kingdom Tour
Keys to the Kingdom tour is something I would love to experience one day. The chance to go behind the scenes and see the utilidors is definitely on my Magic Kingdom bucket list for one day.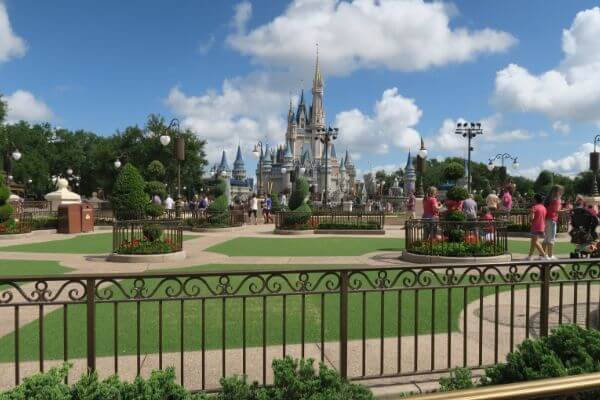 The Keys to the Kingdom tour lasts for 5 hours and provides you with the chance to learn more about Walt Disney, his vision and how the park was created. You will also be provided with lunch and the chance to ride some rides VIP style.
This is an adults only experience in Magic Kingdom available to guests aged 16 years and over.
Fireworks Cruise
Outside the Magic Kingdom park, you can book a speciality cruise to watch Happily Ever After fireworks. The boats dock at the Magic Kingdom Resort hotels, and you can spend an hour on Bay Lake and Seven Seas Lagoon before the fireworks start.
We were treated to such amazing information from our skipper about Disney World, provided with drinks and snacks on our pontoon, and moored in a great spot in front of Magic Kingdom to watch the fireworks. The music was piped into the boat, and it was a great way to sit back and avoid the crowds.
Sorcerers Of The Magic Kingdom
Sorcerers of the Magic Kingdom is a great way to explore the park. A free card game taking you across the Magic Kingdom Park on a mission to help Merlin defeat Hades and the bad guys.
You can collect your playing cards at the fire station at the front of Magic Kingdom, and new cards are available to collect each day you enter the park.
Epcot For Adults
Epcot is often given the stigma of being educational or boring, but I completely disagree with this stigma. There is so many amazing things to do at Epcot for adults.
Drinking Around The World Showcase
On our last trip to Disney World, we spent a great child free day drinking and eating around Epcot's World Showcase. We did visit during Flower and Garden Festival, so there were additional boots serving food and drink, but even without a festival happening, each Pavilion has some amazing food and drink items available to sample.
Epcot Wine Walk
If you don't fancy eating and drinking around the World Showcase, then why not give the Epcot wine walk a try. You can enjoy wines from Germany, Italy and France when you purchase your refillable wine glasses. This can be purchased from one of the three pavilions above.
Behind The Seeds Tour
If you enjoy the Living with the Land ride, why not learn more about what goes on behind the scenes at Epcot with the Behind the Seeds tour.
This is a short one hour tour where you can visit the fish farm and four greenhouses see what happens to provide all the produce that Epcot produces.
Why not get matching Disney t-shirts for your adults only Disney trip
Other Experiences At Disney For Adults
Backstage Magic
If you want to enhance your experience of the Disney Parks back stage then the Backstage Magic tour is for you. This is a 7 hour tour which takes you across the Disney Parks back stage.
You can see what happens behind the scenes, including back stage at Rivers of Light, back stage at Epcot's American Adventure show. Enjoy a lunch at Tiffins just for Backstage Magic guests.
This sounds like an amazing experience that would be a once in a lifetime to see.
Grand Floridian Spa
If you'd like to get away from the parks and be pampered, then the Grand Floridian Spa is a great way to do this. You can enjoy facials and massages in Senses, and be immersed in luxury for a few hours. It's not going to be cheap, but what a lovely way to treat yourself.
The Boardwalk
Why not visit the Boardwalk, just a short walk from Epcot, or a boat ride away. You can enjoy a drink in Abracadaba, entertainment in Jellyrolls (over 21's only). Perhaps you'd like to take a stroll along the boardwalk and then enjoy a pizza from the famous pizza window.
Run Disney
Throughout the year Disney host multiple different themed runs over a variety of distances. This is a great way to get involved if you enjoy running, and try something completely different at Disney World.